Are you in a construction business in Oakland? While most people envision a construction site with workers putting up framed walls and trusses for roofs, it can encompass a lot more. Maybe you have a sprinkler installation firm, or a welding outfit, or even an asphalt striping business. All of these are related to construction in one way or another, and an important way they are related is that they all need construction insurance.
What Sorts of Businesses Are We Talking About?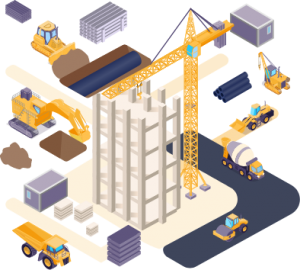 So much of what could be considered a construction-related business centers around what it takes to finish off a building, whether that's a home or a commercial building in Fremont. Some obvious ones would include electricians, plumbers, carpenters, home builders, and remodelers. Most people think of these trades when they first think about businesses or trades related to construction. And to be sure, they all need construction insurance.
But there are even more businesses that should have construction insurance. Consider excavators to dig a foundation, or to use their equipment to clear and level the land in Berkley. Welders are sometimes needed in residential homes and used frequently on commercial buildings in Santa Clara. Asphalt companies who lay driveways, parking lots, and more. Concrete companies for foundations, walls, pads, and more in Hayward, and the list of businesses could go on. Best to speak with your Concise Solutions Insurance agent to learn more.
What Kinds of Coverages Are Common?
There are a variety of aspects to construction insurance that should be tailored to your specific business in San Francisco. The first common one is general liability insurance, which is designed to protect your business if it is responsible for things like property damage, bodily injury, or defective work. For most construction-related businesses, they have a vehicle, or even several vehicles, used in the business. Having commercial auto insurance to protect those vehicles is important, and you could also add physical damage coverage for any added ladder racks, bolted tool boxes, and more. Workers' compensation coverage is also important when you have employees doing work as part of your company.
Because your business does work that is different from many other construction businesses, what you have for your construction insurance will be different based on your unique business. Let Concise Solutions Insurance shop the market for your construction insurance needs to find the lowest cost and best coverage.