It is critical to secure your vehicle with adequate insurance coverage. When you're on the road, from your daily commute to weekend vacations, you need reliable auto insurance cover to safeguard your safety and the safety of other drivers. We give auto insurance coverage for your other toys on the road or in the waves, in addition to a variety of automobile insurance choices for your lifestyle. Here's a guide to auto insurance: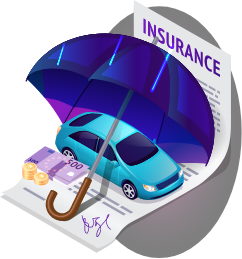 In exchange for a premium, the insurance company guarantees to cover your damages as specified in your policy. Individual policies are priced to allow you to tailor coverage amounts to your specific needs and budget. The policy normally lasts six to twelve months and can be renewed.
If you or your passengers are hurt, personal injury insurance (PIP) pays for your medical expenditures.
Uninsured motorist coverage reimburses you if an accident is caused by a driver who does not have auto insurance. When you're in an accident with a driver who has some insurance but not enough to cover the whole cost of a claim, underinsured motorist coverage protects you.
Underinsured motorist coverage protects you if you're in an accident with a driver who has some insurance but not enough to cover the full cost of a claim. Whether they need a minimum level of auto insurance or not, practically every state has one.
At Concise Solutions Insurance Services, we assist Bay Area customers in finding affordable auto insurance. Our knowledgeable agents can assist you in finding the perfect vehicle insurance options for your lifestyle and budget, including boats, ATVs, and automobiles. We provide a variety of auto insurance and coverage alternatives, including protection Collision-related damage, Liability for property damage, liability for bodily injury, Comprehensive coverage, and Additional protection. We propose auto insurance solutions for your boat in Berkeley, Fremont, Hayward, CA, Oakland, San Francisco, and Santa Clara.